I had knee surgery July 7th. The byproduct of too many years as a basketball player and a fall skiing last January. I've had knee surgery before – in high school for a basketball injury – and I remember healing pretty quickly and being back on the court in no time. Memory's a funny thing. This time around, well, not so much. I'm forty, so that played into it, but I'm sure that last surgery took a lot of rehab and time. I just don't remember it.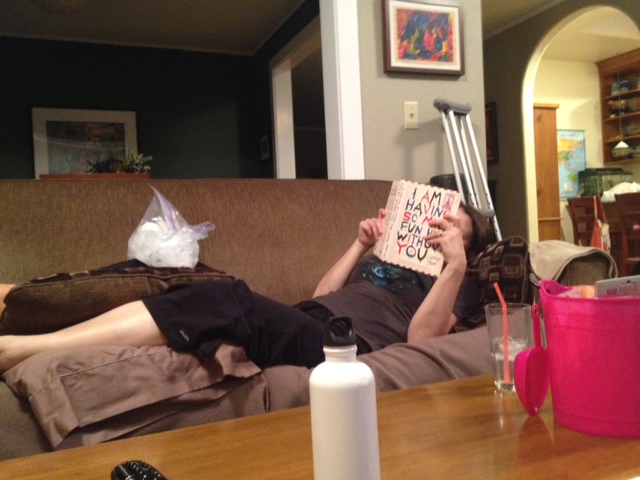 Three days in, on painkillers, I couldn't even follow the plot of Honey, I Shrunk the Kids as my daughter watched it on Netflix. Wait, why is that ant so huge? Two weeks in, hobbling on crutches, I said to my husband, "I had no idea it was going to be like this!! What was I thinking?" He got me more ice. And a snack. I did my exercises, complaining to my surgeon almost three weeks in that I had simply no idea I still wouldn't be able to straighten my leg?! He was patient and sweet. You're getting there, he said. It takes time. Do your exercises. Ice it. You'll be off crutches in no time. You'll be back in the gym soon.
Grrrrrr. I am not a patient person (insert laughter at enormous understatement here).
Meanwhile, in related news, my editor at Scholastic gave me the editorial letter for my new YA novel I'm writing for them. It was long. And she, as usual, made fabulous points. I got feedback from my agent and she, as usual, made fabulous points. This book needed a ton of work (read: the first draft was a freaking mess). I knew this when I sent it. Because first drafts generally are – freaking messes.
My knee. The revisions. I indulged in a few minutes (read: days) of being totally overwhelmed. My knee didn't work! My book didn't work! My husband went out for Haagen Dazs bars. (Have I mentioned how much I love my husband?)
Four weeks in at the gym, as I did my sad little slow turns on the spin bike, one of my trainers said, "Trust the process." I tried not to throw a dumbbell at his head.
But he was right.  Over the last couple weeks I've been re-writing the book and guess what? All those notes from my editor and agent have made it so much better. Yesterday, I walked up and down stairs the normal way. Today at the gym, I did twenty minutes on the spin bike and my knee felt great. My lovely trainer, Amanda, took a picture to remind me.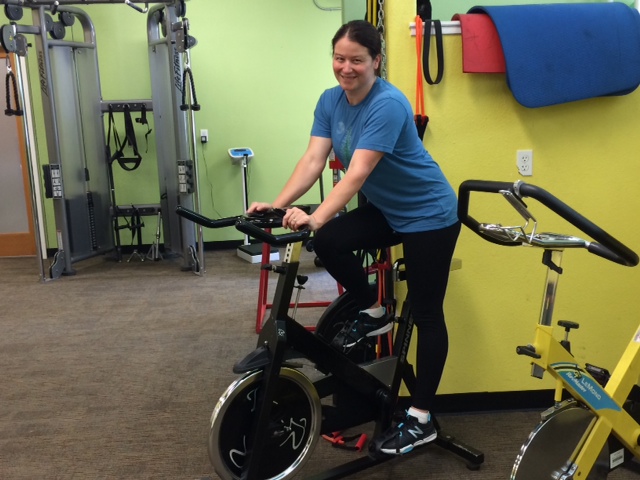 Trust the process.
Of course, I knew this already. Because of writing. Books always start out messy, frustrating piles of words. Overtime, hopefully, after many drafts, they become a novel. This knee, after many revisions in the gym, will be on the slopes in no time.
Bonus Track: If you missed my post on Book Vacations over at Hiver & Cafe's blog, check it out. You still have a few days to enter for a signed copy of CATCH A FALLING STAR.