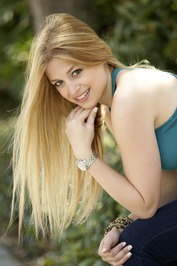 This year, I'm lucky enough to be part of the 2014 YA Contemporary Scavenger Hunt.As part of the hunt, I get to host another YA author on my site. It's my pleasure to introduce you to Michelle Madow! See below to win a copy of Michelle's book (US Giveaway only). I sent Michelle some interview questions about her Vegas novels, THE SECRET DIAMOND SISTERS and DIAMONDS IN THE ROUGH. Writers, take note: she has helpful suggestions for POV and process!:
1.      The backdrop of Las Vegas is such a compelling world for a YA novel– how did you come to choose this setting?
I visit Las Vegas every year for a family event, and I was walking through my favorite hotel — The Wynn — when I thought, "What would it be like to live here?" From there, the idea for The Secret Diamond Sisters formed! I love how the city bursts with magic and excitement. Vegas does everything as big as possible, so being there is like entering a fantasyland. My favorite part is definitely all the different hotels. Each one is a different theme, and they all have such distinct personalities. A few of my favorite hotels are mentioned in The Secret Diamond Sisters (Paris, the Venetian, and many implications to the Wynn), so hopefully readers are transported into these magical hotels while they're reading the book!
2.    My blog is called POV (Point of View) because I'm fascinated with the idea that we each have our individual lens through which to look out at this funny world of ours. So as a writer, I love that each character we create also has his or her own distinct POV. I noticed your books are told through the points of view of four different characters – can you discuss the challenges and benefits of having multiple points of view in a YA novel?
Writing from four alternating POV's is challenging for two main reasons—getting the timing correctly, and getting the voices correct.
There are SO MANY differences between these four main girls. Peyton is the oldest sister, the most stubborn, has taken the brunt of the difficulty of dealing with an irresponsible mother who recently spiraled into alcoholism. She hasn't gotten over a certain heartbreak, and has trouble trusting anyone. Courtney is the responsible, goal-oriented sister, who oftentimes acts as the mediator between Peyton and Savannah, and has put school and work before having friends or a boyfriend. Savannah is the youngest and most naive — she's been protected by her sisters — and is very innocent in comparison to them, but it also leads to her being an optimist who always believes the best in everyone. She also tends to crush on guys very easily. Then there's Madison, the queen bee of her high school in Las Vegas, who feels threatened by the Diamond sisters when they first arrive, and who has major struggles of her own. When writing from the point of views of four different characters, sometimes their voices meld together and sound too similar, so when I'm editing, I have to be aware of that and make sure their voices are distinct.
As for timing, I always keep the same pattern in the chapters throughout the series — they alternate in the order of: Savannah, Courtney, Peyton, Madison. So when I'm outlining my books, I need to make sure that the timing works in conjunction of the POV shifts.
3.     Many of my creative writing students wonder about process and practice as an author. Do you have a routine that works for you or any fun writing rituals that you use to keep yourself motivated?
I outline my novels in detail before writing them — this makes it so I know what's coming next in the plot when I'm drafting, and I don't get blocked. My favorite time to write is in the afternoon. I can't write with any distractions, so I write in my room, alone, with no music or TV on. It has to be completely silent. I have a goal of writing 1,000 to 1,500 words, at least five days a week, and try my best to stick to that goal until the draft is finished. When I wrote my first book, I kept a photo of myself with my favorite author, Stephenie Meyer, next to me to keep me inspired. Now, I have copies of my own books across the room, so I can look at them and remember what I'm working toward!
4.     We make a lot of lists in my creative writing classes when we're writing. Would you be willing to make a list I could share with my students of interesting possible settings to include in a novel or story? 
I feel like any setting can be used to create a good story, as long as the setting acts as a character itself. The setting should contribute to the story, and it should be of interest to you. Some ideas:
– A place you've visited and loved, or a place you've always wanted to visit
– Places with historical significance: The Titanic, London during the plague or Great Fire, Pompeii, etc.
– An abandoned town
– Another planet
– A magical world within our world
The possibilities are endless, and what's important is that it's a place that is interesting to you! Your interest and passion will make the story sparkle.
Thanks, Michelle, for these fabulous responses to my questions!
WIN a copy of Michelle's book (US Giveaway only)!
Diamonds in the Rough Summary:
All-access doesn't mean no problems.
The three Diamond sisters survived the summer in style after coming to live with their long-lost billionaire father. But making a place for themselves at their exclusive new Las Vegas private school is throwing them any number of gold-plated curves. Savannah's YouTube stardom turns into a Sweet Sixteen reality show extravaganza—with complimentary enemies on the side. Dangerous flirtations don't keep Peyton from a gamble that will risk far more than she planned to bet. And when Courtney and the sisters' archenemy, Madison, uncover two explosive secrets, it will rock even this town of glittering illusion—and turn their lives upside down all over again.
Sisterhood, first crushes, and scandalous secrets explode in book two of Michelle Madow's riveting series, The Secret Diamond Sisters.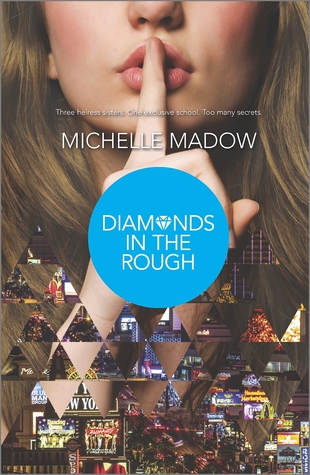 Author Bio:
Michelle Madow wrote her first novel, Remembrance, in her junior year of college. Remembrance is the first book in The Transcend Time Saga, a three part series about reincarnation and true love. The series was inspired by Taylor Swift's "Love Story" music video. Michelle's latest YA novel, The Secret Diamond Sisters, about three sisters who discover they are the secret heirs to a Las Vegas billionaire casino owner, was published in March 2014. It is the first in an upcoming trilogy. The second part, Diamonds in the Rough, will be coming out in November 2014.
Michelle lives in Boca Raton, Florida, where she is writing more novels for young adults. She loves reading, spending time with family and friends, traveling, shopping, sunshine, Disney fairy tales, Broadway musicals, and spends way too much time on Facebook (/MichelleMadow) and Twitter (@MichelleMadow).
Read the 1st novel in The Secret Diamond Sisters series!