On November 29th, my daughter and I had the opportunity to participate in Indie First Small Business Saturday. I got to live my dream of being a bookseller in a fabulous independent bookstore, The Book Seller, and Ana got to see what it might be like to be a bookseller for a morning. She loved it (surprise, surprise) and the end of her shift ended like this (as it should be):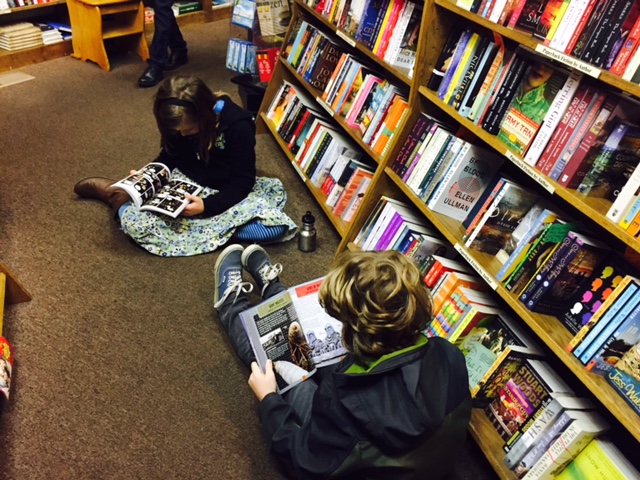 That day, we wandered around the store, putting our "suggestion flags" into books we love and talking with people about books they might want to give for the holidays. Yeah, it was heaven.
Then, on December 6th, I got to be a part of Scholastic's 12 Days of YA with CATCH A FALLING STAR. The question they posed to me was — what book would you give your crush?
People often ask me to recommend books and I love getting asked this question. However, over the years, I find the requests more and more challenging because, well, books are a bit like sending someone on a blind date. Sometimes people come back to me having loved a suggestion but some return looking as if I'd just sent them through some sort of botched elective surgery. So what I've tried to start doing is figuring out ahead of time what books they've loved in the past or what they might want from their reading experience and then we go from there. That's why when Scholastic asked me What book would you give your crush? I tried to come up with a fun list based on specific crush types. Here's my list:
If my crush has been known to take a dare…
Dash and Lily's Book of Dares by David Levithan
(I'd include a journal with my own list of dares so we could start our own book.)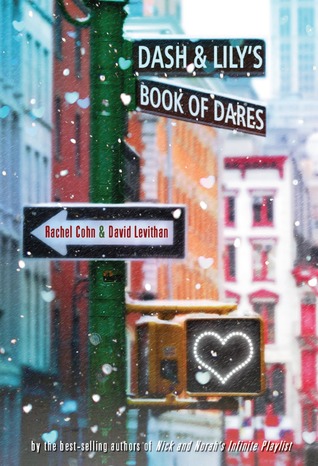 If my crush thinks like Sherlock….
Picture Me Gone by Meg Rosoff
(Mila is a female sort of Sherlock with a brainy first person narrative.)
If my crush is a dreamer….
The Fortunes of Indigo Skye by Deb Caletti
(Because a 2.5 million dollar tip would solve everything, right?)
If my crush likes cool world mash-ups…
Afterworlds by Scott Westerfeld
(This one had me at the tag line: Darcy writes the words, Lizzie lives them.)
If my crush has a darkly humorous side…
Six Feet Over It by Jennifer Longo
(Leigh works in a graveyard as her afterschool job; it sort of sucks sometimes. But there's this cute gravedigger…)
If my crush dreams in music….
The Disenchantments by Nina Lacour
(A post-graduation road trip for a band of teenagers trying to figure out what's next. And Nina Lacour's writing sings for itself.)
If my crush has a poetic side…
Brown Girl Dreaming by Jacqueline Woodson
(Woodson's gorgeous poetry memoir of her youth won the National Book Award, so, yeah, it rocks.)
For this post, I thought I'd also share a few non-YA books for the special wee one, tween, or grown up in your life.   These are three I've loved as of late, but you might just "not be that into them" (that's me, busting out the hip, current references!)
You Are (Not) Small by Anna Kang and Christopher Weyant, a delightful little story with a huge heart
Sisters by Raina Telgemeier, a hilarious graphic novel about a family road trip (this is the book Ana most recommends this year when people ask her about her favorite reads)
Us by David Nicholls, a thoughtful, funny novel about a family – a scientist father, an artist mother, and their complicated teenage son – as they embark on a "grand tour" of Europe just as everything starts to shift in their lives.
Happy Holidays and Happy Reading! Let me know if you have any books you'd recommend this season for someone like me who is a bit of an opportunivore when it comes to books.